Applebee's Copycat Recipe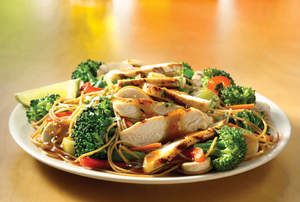 Grilled seasoned shrimp, broccoli, red peppers, carrots, sugar snap peas, bok choy, water chestnuts and mushrooms top steaming whole wheat Asian noodles in a rich teriyaki sauce with cilantro.
SERVES 4
For the Sauce
1/2 cup teriyaki sauce
2 tablespoons light soy sauce
1 teaspoon rice vinegar
1 tablespoon cornstarch
chopped fresh cilantro to taste
For the Chicken and Vegetables
1 tablespoon canola oil
1 lb boneless chicken breast, cut into bite-size strips
1 (8 ounce) package sliced fresh mushrooms
1 (8 ounce) can sliced water chestnuts, drained
4 - 6 cups stir fry vegetables
1 lb of cooked spaghetti
MAKE THE SAUCE
In a small bowl, whisk together teriyaki sauce, soy sauce and vinegar. Dissolve cornstarch in 1 Tbsp water and stir into the sauce mixture; set aside.
COOK THE CHICKEN and VEGETABLES
In a wok or large skillet over high heat, heat oil and stir-fry chicken 2 minutes.
Add vegetables and cook about 2 more minutes until chicken loses its pink color and vegetables soften.
Add the sauce to skillet and cook, stirring, until heated through and sauce is thickened.
Dump in the cooked spaghetti and stir to heat and coat the pasta with sauce.
Read more: http://www.food.com/recipe/teriyaki-chicken-stir-fry-243592#ixzz1viQJct3a