Applebee's Steak and Potato Salad Copycat Recipe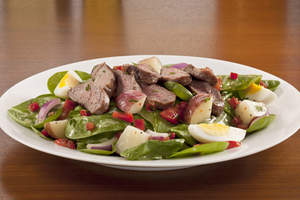 A spinach salad with lots of vegetables, eggs and grilled sirloin steak with herbed potatoes with a honey Dijon vinaigrette dressing.
MAKES 2 large dinner salads
HONEY DIJON VINAIGRETTE
1/2 cup extra virgin olive oil
2 1/2 Tablespoons white wine vinegar
2 Tablespoons Dijon mustard
1 Tablespoon honey
salt and pepper, to taste
MEAT and SEASONINGS
2 sirloin steaks
Montreal steak seasoning
SALAD
1 bag of baby spinach
2 hard boiled eggs
2 small baked red potatoes, sliced
1 tomato, diced
diced onion and red pepper, to taste
Make the Salad Dressing
Combine all the ingredients into a jar with a lid and shake.
Store in the refrigerator until ready to use.
Make the Steak
Rub the steaks on both sides with the Montreal seasoning.
Heat a George Foreman Grill.
Cook the meat to your liking. (
Rare, Medium, Well Done
)
Remove to a plate and let rest for 5 minutes.
Make the Potatoes
Dice the potatoes and place on a microwave safe plate.
Drizzle with olive oil and sprinkle some oregano or other herb on the potatoes.
Microwave for 3-4 minutes until the potatoes are warm.
Build the Salad
Empty the contents of the spinach bag onto two large plates. Add the tomatoes, potatoes, peppers, onion and hard boiled eggs.
Thinly slice the steak and place on top of the salads.
Serve the salad dressing on the side.
TIPS
This dish is a great way to use left over pieces of steak and potatoes. Plan ahead and you can have a no cook quick dinner another night of the week.