Applebee's Paradise Chicken Salad Copycat Recipe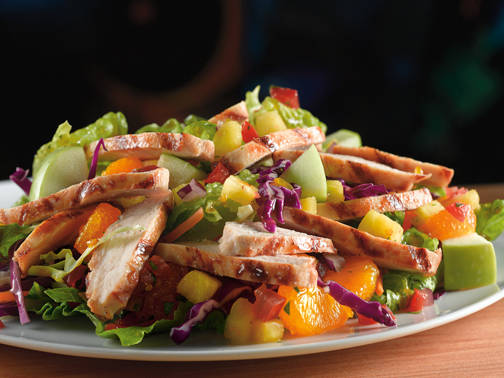 An island blend of fresh greens, mandarin oranges, pineapple, apple, and pico de gallo with slices of seasoned grilled chicken and a balsamic vinaigrette.
MAKES 2 large dinner salads
SALAD
1 cup romaine lettuce.
1/2 cup red cabbage, sliced
1/4 medium apple, diced
1/2 cup Mandarin oranges
1/4 cup pineapple chunks
DRESSING
balsamic vinegar dressing
PICO de GALLO
1 teaspoon salt
6 medium Roma tomatoes
1/2 medium white onion
1 Tablespoon sliced jalapeno peppers
1/2 cup cilantro
2 Tablespoons lemon juice
MEAT and MARINADE
2 boneless, skinless chicken breasts
Grill Mates Chicken Rub to taste
Make the Pico de Gallo
Dice the tomatoes, onion, peppers.
Chop the cilantro.
Mix these ingredients and everything else in a medium bowl. Salt to taste.
Grill the Chicken
Heat a George Foreman indoor grill. Use the Grill Mates rub generously on both side of the chicken. Cook until done.
Build the Salad
Add the lettuce and top it with the fruits and pico de gallo.
Slice the chicken into 1/4 inch slices and lay on top of the salad.
Serve with a light balsamic vinaigrette on the side.