Applebee's Copycat Recipe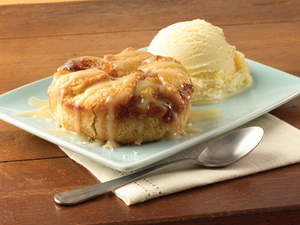 The Cinnamon Apple Turnover is available for a limited time at participating restaurants.
Turnover features fresh, crisp cinnamon-spiced apple slices in a buttery caramel sauce, all tucked into a hand-folded savory, sweet crust and finished with a drizzle of honey cream cheese sauce, then served warm with a side of vanilla ice cream for a true Americana experience.
1 large Granny Smith apple, peeled, cored, and diced
1 thawed sheet of puff pastry
1/4 teaspoon cinnamon
1/4 cup applesauce
1/2 teaspoon cornstarch
1/8 teaspoon vanilla extract
Dash ground nutmeg
1 tablespoon melted butter
1/4 cup brown sugar
Preheat the oven to 400F.
Spray a large baking sheet with non-stick cooking spray.
Combine the apple pieces, brown sugar, cinnamon, corn starch, and nutmeg in a bowl.
Mix in the applesauce and vanilla extract.
Unfold the puffed pastry sheet.
Cut the sheet into four to six squares, depending on the size of your sheet
Spoon the apple mixture into the center of each pastry square.
Fold the squares from corner to corner, creating a triangle shape. Press the edges together in order to seal the turnover.
Put the turnovers on the baking sheet, leaving about an inch between them.
Use a brush to apply the melted butter to the top of each turnover.
Bake for approximately 20 to 25 minutes or until golden brown.